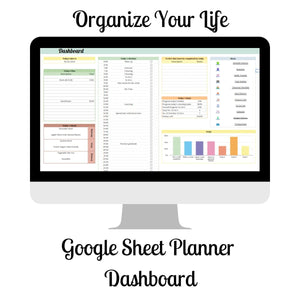 Ignite Your Life's Potential with the Organize Your Life: Google Sheet Life Planner Dashboard
Are you ready to embark on a transformative journey to reclaim control of your life? Say goodbye to chaos, stress, and disorganization, and say hello to empowerment, balance, and fulfillment! Our Google Sheet Life Planner Dashboard is your personal gateway to a life brimming with possibilities.
Why It's AMAZING:
Effortless Organization: Rediscover the joy of order as our clean and intuitive interface effortlessly guides you through managing your life.

Achieve Work-Life Balance: We understand the demands you face daily, and our dashboard empowers you to conquer both your professional and personal domains, restoring balance to your life.

Increased Productivity: Imagine having more hours in the day, optimized for what truly matters. Watch your efficiency soar as you regain time for your passions and dreams.

Empowerment and Confidence: The satisfaction of conquering your goals, routines, and responsibilities will leave you feeling empowered and brimming with newfound self-assurance.

Reduced Stress and Anxiety: Bid farewell to daily worries as the soothing structure of our dashboard alleviates stress and anxiety, allowing you to breathe freely.
WHAT YOU'LL LEARN:
Goal Achievement Strategies: Uncover the secrets to turning your aspirations into concrete, attainable goals that spark your motivation.

Daily Routine Optimization: Forge daily routines that boost productivity, elevate your well-being, and inject enthusiasm into your every day.

Financial Mastery: Master the art of financial management, propelling your financial future with confidence, savvy savings, and smart investments.
WHAT YOU'LL RECEIVE:
10 Functional Tabs: Routines, Monthly Planner, To-Do List, Habit Tracker, Goal Setting, Cleaning Checklist, Meal Planner, Grocery List, Budget Planner, and Transactions.

Empowerment: Regain control over your life, becoming the master of your destiny.

Efficiency: Multiply your productivity and rediscover the joy in each day.
Empower yourself, ignite your passions, and step into a world where you control your destiny. The journey begins now.
Let this dashboard be your trusted companion on your path to a more organized, balanced, and fulfilling life. Take the leap, and unlock your full potential today.